Sell Your Utah House Fast for Cash Today
801-441-2550
Here's What We Can Do For You…
You'll pay NO fees and NO commissions when we buy your house. We pay ALL closing costs associated with the transaction.
We're a local Utah company that can buy your house in ANY condition, regardless of what you OWE or if you're in foreclosure…We can sincerely HELP!
We've been buying homes for over 12 years now and we buy over 150 properties a year. We have the resources, the experience and the ability to create a win-win offer for you!
We can get CASH in your hands within a few hours or days of you contacting us. We can close super fast!
But it gets better:
You can sell fast with no rush to move. You don't have to move out right away, you can stay in your home for  a while until you locate another house.
We are accredited with the Better Business Bureau and this is the real deal. We are confident that we can help you today — regardless of the situation.
Talk to you soon,

P.S. We can answer any questions you might have. Get an immediate no-obligation offer on your property or call  801-441-2550.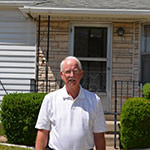 We met Andy at the house after he made contact with us. We have been able to put together a very satisfying deal with Andy in a very short period of time. He made some commitments to us and he kept every one of them and has been very professional as we went through this process. I would certainly recommend Andy to anyone else that was interested in doing such.
Posted By: Joe Bivins